A New Musical Beef Between  Medikal and Teephlow Just Begun, Checkout The Details  and from the look of things, it'll get worst. A New Musical Beef
AMG rapper, Medikal took to Twitter yesterday to share a word of advice with upcoming rappers.
In Medikal tweet, he told young rappers not to have the mindset of impressing people or staying in competition with others.
He wrote: "Most of y'all upcoming rappers are trapped within the mindset of impressing and competition. You will always get the applauds and cheer critics but due to lack of uniqueness, your sh*t will be stuck in your a**."

Soon after his tweet, Teephlow came to reply that Medikal shouldn't tell upcoming rappers to rap in the way he does so he must not discourage others.
His tweet read: "Its Called Passion for real Arts and poetry bro. if you not interested Dont discourage others. We cant all Rap the same #Phlowducation2 "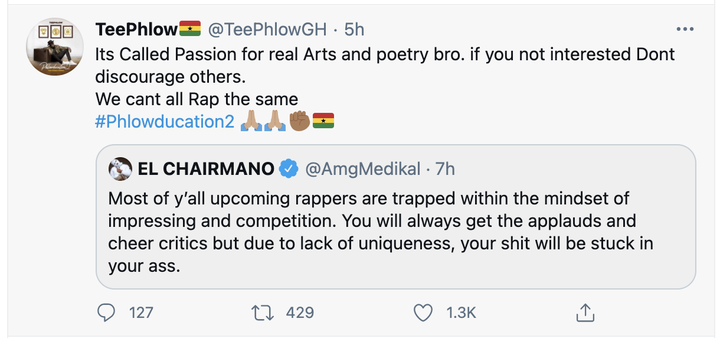 After Teephlow's reply, MDK came to reply again that he's not discouraging him but rather encouraging him. But by this reply, is Medikal trying to imply that Teephlow is an upcoming rapper?
He wrote: "I'm not discouraging you, I am encouraging you".